Hi All,
I have been considering how, or even "if" it was worth reposting this thread,
that on the old forum, did, well, "run a bit"...
SPECIAL MENTION
must be made to the Tony Brown attachment where he looks into the history of CO2 measurements.
Whilst putting together Dr. Glassman's archive thread I noticed this sectin of his CO2 Acquittal paper.
Excerpt,
"
Another observer of current climatology examined Vostok data in a similar coordinate system.
He is Ferdinand Engelbeen, a gadfly and regular commenter to RealClimate.org,
a major public outlet for IPCC climatologists.
Best fit mathematical lines to the Vostok data.
Zero temperature refers to the current global temperature. http://www.ferdinand-engelbeen.be/klimaa...ation.html.


Figure 5
Engelbeen's result is shown in Figure 5. He shows a best linear fit and a best quadratic fit,
also known as the first and second order fits, respectively.
Mathematics guarantees that increasing the order of the fit improves (or at least can't worsen) the fit.
Mr. Engelbeen found this important Vostok relationship "surprisingly linear".
(Comment #2, http://www.realclimate.org/index.php?p=13#comment-69.)
More importantly, his analysis confirms that the curvature in the data is not an optical illusion.

Curves like Engelbeen's are purely mathematical fits.
They indicate correlation, a mathematical relationship, but
he gives them no connection to physics.
"
This made me decide to "resurrect" this thread, and in the interests of completeness I have attached a number of relevant attachments.
I have moved on from my original position / knowledge / understanding I have to say,
but do I have any more faith in the "MLO record of global CO2 measurements" - most emphatically
NO
.
"We" do NOT measure (global levels of ) CO2 at
the Mauna Loa Observatory.

Areas of concern.
What motivates "MLO et al" in the continuing CO2 monitoring program appears to be explained by Dr Tans in one of his replies to Anthony Watts at,
http://wattsupwiththat.com/2008/08/06/po...a-eruption
Excerpt of one of Dr. Tans email replies to Anthony Watts,
"
We are very much aware that in a time
when carbon dioxide emissions will cost a lot of money, there has to be
an objective and fully credible way to quantify emissions. Without
that, carbon markets cannot function efficiently, and policies cannot be
measured relative to their objectives. We think that the atmosphere
itself can provide objective quantification.
"
End of excerpt.
"there has to be an objective and fully credible way" – I agree wholeheartedly.
So, I have continued looking at MLO et al and the (ancient) instruments and method
used.
I have posted an "elephant" version of what follows here on several forums, ie,
And,
http://co2sceptics.com/forum/viewtopic.php?f=2&t=125
And,
http://www.greenworldtrust.org.uk/Forum/....php?t=102
"We" do NOT measure (global) CO2 levels.
Second version –
How many elephants are in the room. ?
Mauna Loa Observatory has been measuring "global CO2" levels for 50 years now, in January 2009.
How good a record has it produced. ?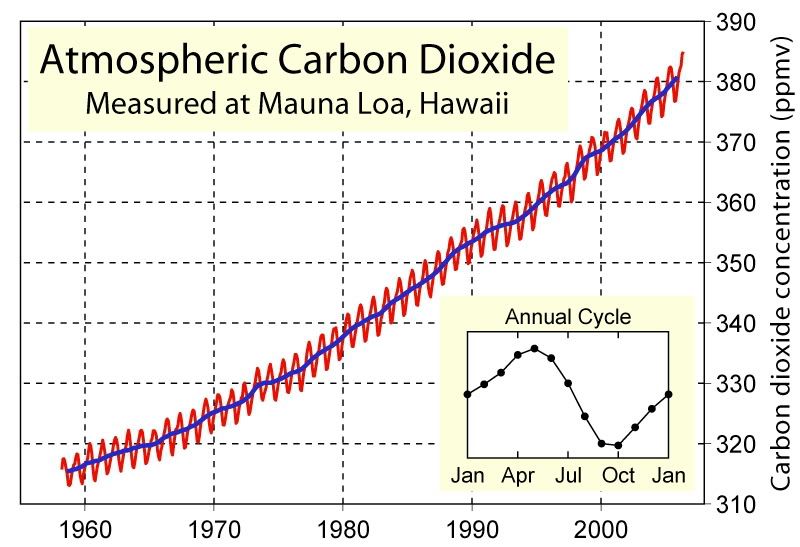 In the first version I looked at
http://esrl.noaa.gov/gmd/ccgg/about/co2_...ments.html
this official page and description of the method employed to measure the beneficial to plant life trace gas that is CO2.
Excerpt,
"
Infrared absorption.
How does the CO2 analyzer work? Air is slowly pumped through a small cylindrical cell with flat windows on both ends.
Infrared light is transmitted through one window, through the cell, through the second window, and is measured by
a detector that is sensitive to infrared radiation. In the atmosphere carbon dioxide absorbs infrared radiation,
contributing to warming of the earth surface. Also in the cell CO2 absorbs infrared light.
More CO2 in the cell causes more absorption, leaving less light to hit the detector.
We turn the detector signal, which is registered in volts, into a measure of the amount of
CO2 in the cell through extensive and automated (always ongoing) calibration procedures.
"
End of excerpt.
In short, at the wavelength measured the amounts of other gases that overlap CO2 (spectrally)
are present in such small amounts and their responses at this wavelength are so small that they can be ignored.
I have to admit that excepting water, this appears to be the case, but even so the sum of the other gases,
(N2O and O3 I believe) that are contributing, and may (do) vary MUST be taken into account
if the purported measurement accuracy of "MLO et al" to 0.1 ppm is to be correct.
To show how consistent the MLO measurements appear to be I have plotted 47 years of results as monthly rate of changes in the below plot.
Please note
the CO2 concentration rate of change is in
parts per million
scale on the left of the plot..
It is an unbelievably consistent record, is it not. ?
I have added an upper (+) and lower (-) black line of only 1 part per million rate of monthly change to the next plot to illustrate this point.
There are however many other concerns.
If you consider the rational that it is the amount of a GHG present, how it varies, and
it's spectral response at a specific wavelength that is the important factor overall
then an obvious and large concern is immediately raised, namely water vapour..
1) The water vapour concern.
As Ferdinand's figures posted elsewhere show water vapour content can be both considerable and varying.
In almost all studies it is now widely accepted that water vapour is THE most important GHG
(contributing between 85% to 95% of the so called "greenhouse" effect)
because of it's strong and wide spectral response and the considerable quantities involved.
From the descriptions so far it becomes apparent that "MLO et al" believe they have dealt with this concern.
The next line of justification usually employed is that the air sample is dried by the cold water trap.
To "dry" air completely a temperature of about minus 70 C is required.
This is why the cold water temperature traps temperature record is important.
Given the size of the (water) elephant even a slight change in the cold traps temperature could have
considerable and undesirable effects on the every ten seconds, accurate to 0.1 ppm measurements.
Tim Channon in another post at CS raised a question regarding what happens to the ice in the cold trap.
Over time I assume this ice must build up, eventually blocking the cold trap if it is not removed. How is it removed, and when, and how often.
I would hazard a guess that the four machines (all in constant use according to an email from Dr. Tans) at MLO
are changed over at regular time intervals to allow the cold traps to be de-iced.
This would mean (up to) four different machines are used to produce one continuous record.
This water vapour concern also does effect the air samples before they are even taken.
For instance in the cold of the early morning as dew forms the air cools as does the water vapour.
In the real world CO2 / water solubility changes mean that the water vapour reduces the CO2 level in the air in the early morning.
It would seem reasonable that during a normal day CO2 levels would alter quite markedly due to
the changes in the air's temperature due to the solubility of CO2 in water relationship alone.
Rain would have a considerable effect as Ferdinand has noted previously, lots of cooled water, high humidity.
Is there a temperature / pressure / humidity record for MLO.
Apparently not. ?
Water vapour and how it varies must be known within the instruments and out side where the samples are taken.
As well as how changes have effected the sample before it is taken.
Also are the adaptations to the instruments (originally made for contained air samples) to take external measurements
known NOT to effect the samples, a long pipe connected to a metal tower presumably has condensation at different times of day or weather conditions.
2) QA / machine constants, repairs, replacements, and upgrades concerns.
Undoubtedly these are required, and repairs, replacements must have happened over the 50 year record from MLO, but none are available on the internet.
I have not seen any other evidence that the records are available, or have been checked.
Since August 2008 a change log has been introduced, which 49 years on is too little too late, but a step in the right direction undoubtedly.
Simply before August 2008 the changes, constants, repairs, upgrades are unknown, any record produced now
from some unknown as yet source, would have to be to put it kindly somewhat taken on trust.
Would it be a historical record of changes and good QA process monitoring, or would it be freshly written. ?
All that is known at present is such records are not available on the internet, and do not appear to have been verified or independently checked.
Given the importance of the measurements (as the Dr. Tans quote above illustrates) this is a major concern
as to the reliability of the instruments and the measurements they take.
3) The discarded outlier concern.
The practice of discarding any measurements that over several hours vary by more than 0.25ppm is
usually justified by "MLO et al" because there is little or no variation measured at the South Pole. ?
And, the samples have been altered by the volcanic CO2 emissions of the local volcanoes
(there are 2 in the vicinity – one the world's most active CO2 emitting volcano.)
Another justification used is because CO2 is assumed to be a well mixed gas, so there is a back ground level to measure.
Does this ONLY apply to CO2. ?
Other gases are known to vary, but CO2 no, it is special, it IS well mixed, apparently.
An assumption with no "motive power" whatsoever for CO2s assumed mixing that does not apply to other gases. ?
Using the above "justifications" MLO et al then discard any measurements that vary by more than their "allowed" amount.
"Flags" denoted discarded data.
In some early studies of MLO released data it appeared that up to 80% of the "raw data" had been discarded.
Last August it appeared that much data was altered / discarded because of machine / instrument breakdown.
Overnight the data set back from Aug 2008 to 1974 was altered, no explanation was given until WUWT asked.
The answers and concluding remarks on the below linked to thread are informative.
http://wattsupwiththat.com/2008/08/04/on...ta-doesnt/
The flags used to denote discarded data are not specific / quantified variables, but are descriptions and therefore subjective.
This is simply the removal of "unwanted" outliers, by subjective decisions based on preconceived assumptions of what they are measuring..
http://www.globalwarmingskeptics.info/ph...?f=6&t=572
Dr Glassman summed this problem best with this statement.
Excerpt,
"
Ferdinand reports that the data are reduced to produce smoother results.
He reports that investigators select data to reject volcanic, agricultural, and other local effects.
He says that they remove outliers before averaging, and that that is normal scientific and engineering practice.
Without more, these are all subjective steps. While they may be common practice,
they are at best incompletely reported or worse - unscientific.

Terrible mistakes have been made and actual frauds perpetrated by improper removal of outliers.
"
End of excerpt.
As an example of the care needed to avert massive mistakes being made using South Pole measurements, incorrect assumptions and,
basic misunderstanding of the processes involved, Ozone is a excellent example.
South Pole data / measurements of Ozone were used to "show" how man had created the ozone hole,
as the processes involved were understood at the time.
That idea is now all but discredited, as the processes / effects both natural and man made were not understood correctly.
http://www.newscientist.com/article/dn14211
recent discoveries have shown this.
The seasonal Ozone hole still appears to be at about (within 1% of) record size.
Overall, MLO et al have removed outliers that do not fit their preconceived assumptions by subjective flags based on,
1) What they knew of.
2) What they knew of incorrectly and,
3) What they did not know of.
It should be of little surprise their measurements seem to fit their assumptions.
4) The variation of what do we actually measure concern.
Yes, spectrally we appear to measure CO2 but what and which variations that are not admitted already as discarded. ?
In the mid 1950s Keeling himself produced a paper that discarded the effect of the vegetation
to any great extent on the MLO measurements, more recently plots have been produced showing
a net decrease in the MLO vegetation changes rate confirming, or rather reaffirming Keeling's original findings.
In short the vegetation appears to be on the wane (less active sun possibly)
yet the MLO official rates of change of CO2 have not changed.
Excepting a recent hiccup as covered at WUWT that it would appear will soon be "corrected".
http://wattsupwiththat.com/2009/01/11/ma...s-history/
Almost any reading of the official MLO sites refers to "CO2 depleted (by vegetation) air samples". ?
There are other even more basic "what do we measure" questions.
Many measurements are flagged (discarded) by MLO because of the local volcano,
usually these are referred to as downslope wind directions, and nothing more.
In the case of downslope from the volcano winds this appears reasonable,
if it was correlated to volcanic activity or gas emissions.
The volcano could be permanently emitting gas, but I doubt it is a constant, even so this may be reasonable.
Upslope winds appear to make up most of the voltage measurements that are kept for processing.
These winds are therefore used as our measurement of global CO2 levels.
Locally Keeling suggested vegetation was not much of an effect, but officially vegetation is given
as the reason for the seasonal variation as measured at MLO.
Is there anything else that could be effecting the measured CO2 level at MLO. ?
Mauna Loa is a volcanic island, it is in the Pacific ocean, and this island is near the equator.
Seasonally the trade winds shift North and South, as do the Hadley cells they are part of.
The tropics of Cancer and Capricorn show the seasonal movements of the Hadley cells North and South of the equator.
The official position is that CO2 is a well mixed gas, obviously not instantly but over many months globally speaking.
The usual answer given is that it takes about 18 months for CO2 emitted from any locality
to become evenly mixed globally.
.
Dr. Glassman's page
http://www.rocketscientistsjournal.com/2...ittal.html
The Acquittal of CO2 - covers the water / CO2 solubility / temperature relationship very well.
The trade winds that blow across Mauna Loa have blown across a part of the Pacific where the water is known
to be warming and so therefore de-gassing CO2. The longer the wind has blown across the ocean the more
CO2 that will have been de-gassed by the ocean, so the higher the level of CO2 measured.
Over the path of the trade winds it would be reasonable to expect an increasing level of CO2
as the wind neared the solar zenith and the doldrums.].
Below is a roughly drawn figure that shows this.
Obviously Mauna Loa being an island does not move, but the trade winds do move with the sun's zenith,
between the tropics of Cancer and Capricorn. They move seasonally, regularly, and relatively predictably.
The point the figure is trying to illustrate is that MLO is on an island that the trade winds move over seasonally.
If you have a measuring station (on the above figure) at point A would you expect a lower CO2 reading than at point B on the diagram. Yes.
Is this the seasonal variation that MLO is measuring. ?
5) The unseen algorithm concern.
Quite simply, remember Mann's 1998 and 2008 "Hockey Stick" temperature projections.
In the 1998 "Hockey Stick" there were supposedly 400 plus data sets. Then by accident someone found a copy of the algorithm Mann et al used.
It turned out that Mann had used 112 data sets only, AND one data set had been weighted by a factor of 396.
So, what appeared to be 400 plus data sets was in reality just one because of the undeclared omissions and weighting..
No one has seen the algorithms used by "MLO et al".
We may have seen 2 days of 10 second voltage data of a 50 year record,
but algorithms, no, not at all, not one.
Constants / corrections used, what, how, why to calculate the ppm figures released,
we simply DO NOT KNOW.
This concern is THE major concern (closely followed by the discarded outliers concern), in my opinion.
This concern is a known fact, no one has seen the algorithms used, because they have never been given or released.
It really is that simple, no algorithm, no known objective or fully creditable MLO et al CO2 record,
whether it be of localized variations or "assumed" background global levels.
There are many further and more detailed concerns regarding the MLO et al CO2 "global" record of 50 years,
above I have merely tried to put some of the major areas (as I understand) of concern, in as simple a way as possible.
If just one of the above concerns is reasonable the whole MLO et al CO2 record is at best, neither objective nor fully creditable.
The simple fact is obvious; the algorithm concern alone is A FACT.
In my opinion the CO2 global record is discredited, unreliable, and does not measure what it purports to monitor.
What MLO et al purports to measure (a global CO2 background level) does that even exist,
except as an ideological expression of what "they" would like you to believe.
No, not in any real sense.
If such a place existed to measure such an "average level" then it WILL NOT BE
in the middle of a de-gassing ocean, on a volcanic island, near the world's most active CO2 emitting volcano.
My version of why MLO is important.
The MLO et al record has been used to "prove" or "support" most, if not all AGW / man made climate change
unproven hypothesis / ideas / fears, new ways to tax / control us.
It is plain that the base this is built on (MLO et al) is false, and
So therefore is everything built off it.
MLO et al is the ORIGINAL Hockey Stick and is one of the cornerstones of the biggest scam in human history so far,
the idea that man has significantly effected the climate of this planet.
Other "cornerstones" of AGW being,
( the now discredited) Mann et al 1998 Hockey Stick, and
(the never validated) climate models
(which still have a very poor understanding of clouds as well as of oceanic phases and cycles, and
of course not forgetting the "constant" assumed solar influence, admitted and other effects that are flatly denied).
The three main areas of support for AGW require you to have much to believe in.
Yet they are derived from an understanding amd knowledge of the processes involved that is
a) incomplete,
b) assumed and,
c) has been shown to be wrong.
Belief is the life blood of politics and religion.
Science should be empirical.
MLO et al is NOT empirical. The released data sets are the ideological representations of what they assume they are trying to measure.
It requires a lot of belief, a belief that will cost us all dearly, and soon.
The planet continues to cool, as it has for the last ten years.
That WAS NOT modeled or predicted by anyone supporting the MLO et al / AGW unproven hypothesis's position.
Yours Derek.
The whole aim of practical politics is to keep the populace alarmed
(and hence clamorous to be led to safety)
by menacing it with an endless series of hobgoblins, all of them imaginary.
H. L. Mencken
.  
The hobgoblins
have to be imaginary
so that
"they" can offer their solutions, not THE solutions.