Hi All,
Alternative title...
Climate modeling. Cock up or Conspiracy?
Or, is it a scientific cock up that became a pc conspiracy?
Most notably -
Vilhelm Bjerknes (1904) -> Lewis Fry Richardson (1922) -> Jule Gregory Charney (1950 and 1979) -> James Edward Hansen (1988).
https://en.wikipedia.org/wiki/Vilhelm_Bjerknes
Vilhelm Bjerknes, 1904. The accepted radiative transfer physics of the day. Graphs + 2nd LoTs.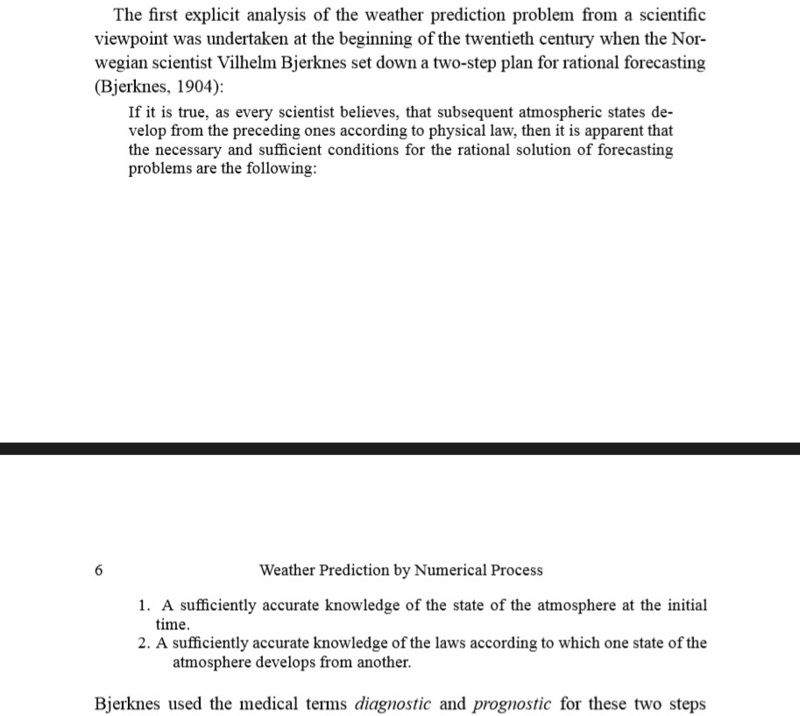 https://en.wikipedia.org/wiki/Lewis_Fry_Richardson
Lewis Fry Richardson, 1922. Computation, as above but, much more complex, and no 2nd LoTs.
Before computers, and waiting for computers.

https://en.wikipedia.org/wiki/Jule_Gregory_Charney
Jule Gregory Charney, 1950. As above + more complex maths and filtering. Done with computers.
Dr. Judy Ryan has recently pointed out at -
http://www.galileomovement.com.au/holdin...ntable.php
that,
https://archive.org/stream/compendiumofm...6/mode/1up
1952 AMA reject "greenhouse" because water vapour is a negative feedback. Climate modeling either did not know it was modeling greenhouse or it ignored this, and hoped no one would notice...
"
In the past 100 years the burning of coal has increased the amount of CO2…some see this as an explanation of the recent rise of world temperature.
But………there seems no reason to regard this rise as more than a coincidence. This theory is not considered further(2nd paragraph page 1016).
"
Max Michael posted in regard of G S Callender,
http://wattsupwiththat.com/2014/11/13/gu...callendar/
in the There is no greenhouse effect facebook group -
"
He did modeling and research into 'warming theory' of both H2O and CO2, which are still the focus today in climatology. So his work tries to substantiate those claims scientifically. I was trying to find the following quote in one of his papers. So perhaps he came to realise at the end of his career that he had disproven 'warming theory' himself.

"G.S. Callendar found that the thin layer of ocean surface waters would quickly saturate, and it would take thousands of years for the rest of the oceans to turn over and be fully exposed to the air. Also the overlapping absorption bands of CO2 and water vapor already blocked all the radiation that those molecules were capable of blocking.
The official U.S. Weather Bureau publication put it, the masking of CO2 absorption by water vapor was a "fatal blow" to the CO2 theory. Therefore, "no probable increase in atmospheric CO2 could materially affect" the balance of radiation."
"
Callender and Charney were developing their modeling at the same time (1940s and 1950s), with quite different results. When the differences in the approaches are compared, in particular the inclusion or omission (in Charney's approach by LFR in 1922) of the 2nd LoTs, then it appears that the differences in the physics used in the models may be the cause of those differences in the modeling results. I am assuming that Callender included the 2 LoTs, thinking it not even worth mentioning, as it MUST BE included.
Presumably the eminent physicists of the day were consulted, or because they were who they were, they were aware of this.
Thus, when Professor Richard Feynman gave his (for the general public) lecture series in the early 1960s, it may well be the case he started the series off with a warning, not to the public, but to his peers. Physical laws (the basis of Charney's modeling approach) are not laws, they are merely unphysically calculated predictions....
ie,
."
I am more interested in the marvel of nature who can obey such a simple and elegant law...and how clever she is to pay attention to it.
"
Richard Feynman 1964.
From the video linked to in the first post of this GWS thread,
http://www.globalwarmingskeptics.info/thread-2289.html
and this one,
http://www.globalwarmingskeptics.info/thread-2294.html
It is very obvious that by 1979 Charney had no regard at all for Feynman's warning in 1964 of the differences between a LAW of thermodynamics and a physical "law".
It also appears that no one knew or realised that the radiative transfer basis of the modeling is actually greenhouse effect "theory". Thus, the failed paradigm continued to be modeled.
It therefore seemed a correct and natural progression in the modeling of climate that in 1979, Jule G Charney headed,
Physical science - Part 1
http://web.atmos.ucla.edu/~brianpm/downl...report.pdf
Numerical methods - Part 2
http://www.cgd.ucar.edu/~brianpm/charneyreport.html
pdfs attached to this post.
https://en.wikipedia.org/wiki/James_Hansen
James Edward Hansen,1988. As above, + unphysical positive water vapour feedback assumption.
Dr. Vincent Gray stated in 2008, and that was noted in The one assumption pdf attached to this post, and in this forum.
http://www.globalwarmingskeptics.info/thread-309.html
In slide 127 of the powerpoint presentation attached to the first post in the below thread at the GWS forum,
http://www.globalwarmingskeptics.info/th...13109.html
What is the theory of man made global warming?
the timeline of how the modeling was developed from Charney 1949 to Hansen's 1988 presentation is given.
https://en.wikipedia.org/wiki/Science_an...in_Hungary
"
and the highly controversial former NASA-physicist Ferenc Miskolczi, who denies the green-house effect.[6]
"
Oh, the irony.... Taken to NASA by Hansen, because Hansen did not know what the models model....
Miskolczi, F.M. (2007) Greenhouse effect in semi-transparent planetary atmospheres, Quarterly Journal of the Hungarian Meteorological Service Vol. 111, No. 1, January–March 2007, pp. 1–40
http://owww.met.hu/idojaras/IDOJARAS_vol111_No1_01.pdf
Dr. Ferenc Mark Miskolczi, 2007. What has always been the basis of climate modeling....
In other words, since 1922 "climatology" is just so much Black Body Based Balderdash (BBBB)...
http://www.globalwarmingskeptics.info/thread-2310.html
because,
http://www.globalwarmingskeptics.info/thread-2289.html
when, what we should be basing our study of earth's climate system upon is very basic and simple to understand geography...
http://www.globalwarmingskeptics.info/thread-2312.html
Some quite basic physics should also be remembered, namely that liquid water does not exist in a vacuum. In space water is either solid ice, or gaseous water vapour. Therefore, the presence of an atmosphere permits water to exist at earth's surface, as is shown by the water cycle.
This means that the massive heat capacity (and heat content) and therefore the insulating effect of the world's oceans must first be taken into account when we study a system as dynamic and complex as earth's climate. A system that is stable and therefore must be dominated by (these) negative feedbacks.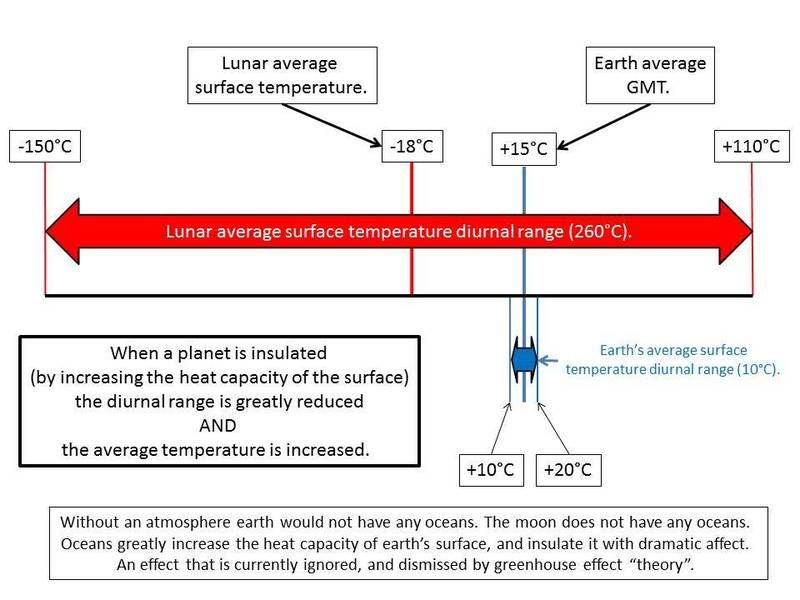 Such massive and dominant negative feedbacks as the oceans heat capacity and the water cycle can not be ignored or misrepresented IF one wants to try to understand the climate system of this planet, and how it actually works. Greenhouse effect "theory" advocates, supporters, and believers seem to think that unphysically explaining the increase in overall average temperature between the moon and the earth is enough, YET, they never mention, nor try to explain the reduction in the diurnal average temperature ranges!!! This is because the GH "theory" can not. Heat capacity, specifically increased heat capacity (slower to warm, and slower to cool), can, physically, with no greenhouse effect required....
Once the 2nd Law of thermodynamics, which always applies to matter, was removed from the modeling (Richardson 1922) then that opened the doorway to the present BBBB, hidden in way too complex maths for virtually anyone to understand, that "climatology" is currently mired in. This was because it, very unfortunately for science, became politically correct, as espoused most notably by Al Gore, who gave James Hansen the platform to present his presentation in 1988, and his own "inconvenient truth", which was also a lie from the get go. Maurice Strong via most notably the 1992 earth summit made it bureaucratically correct. In between and since big business has also toed the line, and jumped aboard wholesale. It is hoped the bandwagon has become so large it can not be derailed, yet, the truth will out.
Thus it would seem that a scientific cock up, that was not corrected when it should have been in the early 1950s, has become for reasons of political, bureaucratic, and individual greed for money and power the global, pseudo science based scam of the late 20th and thus far into the 21st Century.
There is a simple choice to be made as to what should be the basis of climate modeling and climate science.
a) An unphysical effect within the atmosphere supposedly warming the surface of earth.
Or,
b) A physically explainable gargantuan increase of heat content and heat capacity to the surface of earth, and the insulating affect it has.
This is due to the presence of an atmosphere, and therefore the presence of the world's oceans.
At present "politics" has decided in favour of the former, but in the end science will have to decide in favour of the latter, simply because the former is unphysical, and the latter is physical.
----------------------------------------------
Further possible investigation line.
Professor Murry Salby has also noted that CO2 is modeled as acting as the control knob for GMT.
at 1 hour 40 minutes in this video.
https://www.youtube.com/watch?v=jZ0R1MCkSOU
So, what is the Bern model?
http://www.globalwarmingskeptics.info/thread-2225.html
How and when does the development of the Bern model tie in with the development of climate modeling? Is it even worth bothering as the "theory" was rejected in 1952 for reasons the "theory" can not answer to this day?
The whole aim of practical politics is to keep the populace alarmed
(and hence clamorous to be led to safety)
by menacing it with an endless series of hobgoblins, all of them imaginary.
H. L. Mencken
.  
The hobgoblins
have to be imaginary
so that
"they" can offer their solutions, not THE solutions.