Hi All,
I posted on facebook a very simple question. "Does SF6 re-emit?"
An "interesting" discussion with Dr. Roy W Spencer ensued.... Please see attached pdf.
Some say SF6 is a "greenhouse gas" that is 23,900 times more powerful than carbon dioxide. The IPCC used to say that in SAR, but in the TAR they changed that figure to 22,800 at the 100 year time interval.
ie,
http://www.ipcc.ch/publications_and_data...table-2-14
BUT, the "strength" of a "greenhouse gas" is NOT a measured physical property.
For example - SF6 absorbs but does not re-emit (because it conducts away the energy so fast), it is described by IPCC as a powerful greenhouse gas.
Oxygen absorbs some frequencies of sunlight (and warms the atmosphere), and also does not re-emit, yet it is not described by IPCC as a greenhouse gas??
ie,
http://scifun.chem.wisc.edu/chemweek/ozone/ozone.html
"
Diatomic oxygen absorbs the highest-energy ultraviolet radiation from the sun, namely, all radiation with wavelengths shorter than 240 nm. However, there is a great deal of ultraviolet radiation between 240 nm and 290 nm that is not absorbed by O2 molecules. This radiation is absorbed by ozone.
" then
"
When diatomic oxygen (O2) in the stratosphere absorbs ultraviolet radiation with wavelengths less than 240 nm, it breaks apart into two oxygen atoms.
" then, "
The resulting oxygen atoms combine with O2 molecules to form ozone.
" and, "
This reaction is exothermic, and the net effect of the previous two reactions is the conversion of three molecules of O2 to two molecules of ozone with the simultaneous conversion of light energy to heat.
" However, "
Ozone absorbs ultraviolet radiation with wavelengths as long as 290 nm. This radiation causes the ozone to decompose into O2 molecules and oxygen atoms.
" The net result being "
This, too, is an exothermic reaction. The overall effect of this reaction and the previous reaction is the conversion of light energy into heat. Thus, ozone in the stratosphere prevents highly energetic radiation from reaching the Earth's surface and converts the energy of this radiation to heat.
"
So, SF6, O3 and O2 absorb greater or lesser parts of the spectrum of sunlight and all warm the atmosphere, but only SF6 and O3 are considered to be a greenhouse gas???? This is because SF6 and O3 can absorb IR that O2 is transparent to. Ozone (O3) does absorb some IR and the IPCC describes Ozone as a powerful, but short lived greenhouse gas. IPCC states O3 is 1,000 times more powerful than CO2, as a greenhouse gas, but over a 20 year time period has a GWP of only a quarter of that of CO2. The justification, or rather physical property is described by
Wikipedia
as being "
a gas in an atmosphere that absorbs and emits radiation within the thermal infrared range.
" Yet, SF6 conducts so fast in an atmosphere it has nothing left to re-emit...
What people are quoting when they describe the "strength" of a "greenhouse gas" is the CALCULATED "global warming potential" according to the IPCC, of a particular gas.
ie,
http://en.wikipedia.org/wiki/Global-warming_potential
Excerpt -
"
From Wikipedia, the free encyclopedia

Global-warming potential (GWP) is a relative measure of how much heat a greenhouse gas traps in the atmosphere. It compares the amount of heat trapped by a certain mass of the gas in question to the amount of heat trapped by a similar mass of carbon dioxide. A GWP is calculated over a specific time interval, commonly 20, 100 or 500 years. GWP is expressed as a factor of carbon dioxide (whose GWP is standardized to 1). For example, the 20 year GWP of methane is 86, which means that if the same mass of methane and carbon dioxide were introduced into the atmosphere, that methane will trap 86 times more heat than the carbon dioxide over the next 20 years.[1]
"
I think it worth noting the notes on the above linked to IPCC page.
Excerpt -
"
Notes:

a The CO2 response function used in this report is based on the revised version of the Bern Carbon cycle model used in Chapter 10 of this report (Bern2.5CC; Joos et al. 2001) using a background CO2 concentration value of 378 ppm. The decay of a pulse of CO2 with time t is given by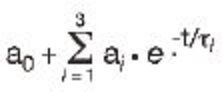 Where a0 = 0.217, a1 = 0.259, a2 = 0.338, a3 = 0.186, τ1 = 172.9 years, τ2 = 18.51 years, and τ3 = 1.186 years.

b The radiative efficiency of CO2 is calculated using the IPCC (1990) simplified expression as revised in the TAR, with an updated background concentration value of 378 ppm and a perturbation of +1 ppm (see Section 2.10.2).

c The perturbation lifetime for methane is 12 years as in the TAR (see also Section 7.4). The GWP for methane includes indirect effects from enhancements of ozone and stratospheric water vapour (see Section 2.10.3.1).

d Shine et al. (2005c), updated by the revised AGWP for CO2. The assumed lifetime of 1,000 years is a lower limit.

e Hurley et al. (2005)

f Robson et al. (2006)
"
Some may remember a thread I posted some time ago,
The Bern model. What is it, and is it important?
and, some may have read about the Ao term within the Bern CC model.
Astonishing new element in climate fraud uncovered?
In short, this is the effect of the Ao term...
No wonder then that note d reads -
"updated by the revised AGWP for CO2. The assumed lifetime of 1,000 years is a lower limit."
In other words, if I have understood this correctly, 21.7% of human activity emitted CO2
NEVER
leaves the atmosphere...
The above gives rise to several questions...
How does nature determine between human emitted and naturally emitted carbon dioxide?
What are the physical properties that makes a greenhouse (GH) gas a greenhouse gas?
Why are some gases that exhibit the same or very similar physical properties sometimes described as a GH gas and others are said not to be GH gases? ie, SF6 and O2.
How is the GWP value for CO2 calculated by the IPCC?
Has the method and methodology used by the IPCC to calculate the GWP figures now quoted globally been given scientific approval, or received any science institutional scrutiny outside of the IPCC?
How can the GWP for CO2 be "standardized" to the same figure for 20, 100 AND 500 years?
How can the Bern CARBON (dioxide) Cycle model be applied to other gases with totally different cycles and lifetimes in earth's atmosphere?
How can gases with an atmospheric lifetime of under 20 years have GWP figures for 20, 100, and 500 years?
Just WHAT is the IPCC "calculating" when it produces it's GWP figures for all the supposed "greenhouse gases"???
The whole aim of practical politics is to keep the populace alarmed
(and hence clamorous to be led to safety)
by menacing it with an endless series of hobgoblins, all of them imaginary.
H. L. Mencken
.  
The hobgoblins
have to be imaginary
so that
"they" can offer their solutions, not THE solutions.