Posted from ICECAP.Since The Reference Frame blog is now difficult to load on.
JULY 28,2011
By Lubos Motl, The Reference Frame
EXCERPT:
Scientific misconduct almost certainly demonstrable
You may have forgotten about it but one of the early stimuli that energized the recent wave of hysteria about the so-called "global warming" was a claimed observation of four dead polar bears floating on the sea after a thunderstorm in September 2004 - exactly when TRF was getting started.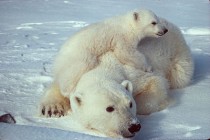 The main relevant articles ultimately appeared in 2005 and 2006:
Potential effects of diminished sea ice on open-water swimming, mortality, and distribution of polar bears during fall in the Alaskan Beaufort Sea (2005)
Observations of mortality associated with extended open-water swimming by polar bears in the Alaskan Beaufort Sea (2006)
The authors of the 2006 article, Charles Monnett (lead author of both articles) and Jeffrey S. Gleason, have de facto claimed that 5/6 of a group of polar bears died in a 16-year period and it's surely due to global warming and it's gonna get worse.
As the media - see e.g. AP and CBS news - just figured out, Charles Monnett, employed by the U.S. Bureau of Ocean Energy, Management, Regulation, and Enforcement, was put on leave until the verdict about the investigation of his "integrity issues". Obama administration officials are behind the investigation: they confiscated Monnett's hard drives and notebooks, among other possible proofs. Gleason, the second author in both papers, has told the investigators that none of the polar bears in either article had anything real to do with global warming (and they haven't even mentioned the term global warming) and Monnett has added this spin to his interpretations (which has surely sweetened his life until 2011, I add).
LINK
========================================================================================================
It appears that Charles Monnett is in trouble!
Just another AGW believer getting exposed for what they are.

A Dirtbag!
It is our attitude toward free thought and free expression that will determine our fate. There must be no limit on the range of temperate discussion, no limits on thought. No subject must be taboo. No censor must preside at our assemblies.

–William O. Douglas, U.S. Supreme Court Justice, 1952