WORK IN PROGRESS


LATER ADDITION - The piece is now sort of finished, but it will always be "ongoing".
Some tidying and further additions are needed and planned.
Comments and suggestions are invited.
So, I will open the thread.
Part 1 - Why do people sometimes discuss, and at other times debate..
What is discussion?
- Usually found in science. - Discussion (which assumes an agreed paradigm) should be positive in both nature and intent.
The aim is to improve everyone's knowledge and understanding.
Sunsettommy Wrote:People who are truly into discussing the topic will be able to talk about what is known and what needs to be better understood.
No need to prove who is more correct since the objective is to learn.
To better understand what is being postulated.
The presentation under discussion may be incorrect or has room for improvement.
But talking about it will benefit all parties to the discussion.
What is debate?
- It is the "way" of doing "things" in politics. - Debate is negative in both nature and intent.
The tactics employed are to WIN, or destroy the opposition, so the only concern is to win, being "right" is actually incidental, winning is the point.
Link to Nizkor project plus other links for logical fallacies as discussed on,
Debating / discussion tactics used..
http://www.globalwarmingskeptics.info/fo...d-552.html
Discussion versus debate
- is discussion + facts stronger than debate ? No (wrongly) in reality.
Discussion is delicate, all parties in a discussion must consent to discussing, if not the discussion will inevitably become a debate.
In a straight battle debate usually wins, because discussion does not cheat, debate does.
Debate can also be used to hide a shift of position, even a complete reversal of position.
This is the context of climate science wasmost notably "achieved" by Stephen Schnieder, and hence
the sometimes used term of some being a "Schnieder", more often the word "turncoat" would be used,
but the meaning is the same.
Do old and new science paradigms effect whether we discuss or debate?
Yes, especially if there is a vested interest in the old paradigm.
Kuhne - All science paradigms are wrong - This is really better put in terms of degrees of "right" and "wrong".
The old paradigm will be more wrong than the new paradigm, whilst neither will be exactly correct, or the full and complete truth of the matter.
Question = Who has to debate, and who wants to discuss?
Discussions within an agreed to be correct, or the best we have at present paradigm are relatively easy...
But between paradigms, there will almost inevitably only ever be debate.
Wrong paradigm - a simplified example - SST very patiently some years back explained to me about
the problem with the idea that the Gulf Stream was closing down.
"We" were all quite worried about it at the time in Europe, well, I was.
The BBC had done several quite worrisome documentaries about it as well.
I have never visually explained the issue, and it is about time I did, so I hope others find this useful.
It is difficult to convey how profound the effect of this was upon me at the time, and it still is now,
this changed the way I view things forever, and got across to me how the wrong interpretation can be so very, very misleading.
Thank you SST.
Gulf stream - 2 measurements, straight line (plot) - linear thinking.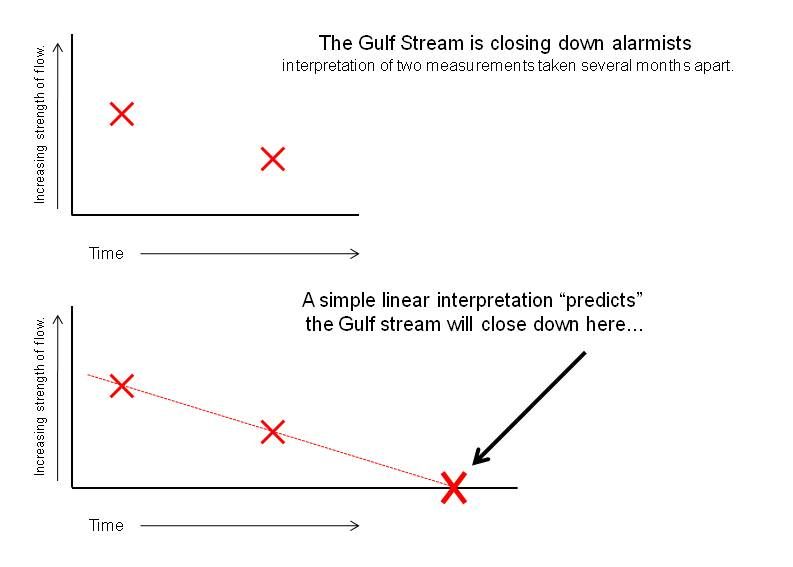 Three measurements = cyclical (plot), natural, robust, and complex (NRC) system.
It seems reasonable to me to describe the present state of climate science discussions to be between three distinct groups.
1) There are the Anthropogenic (caused) Global Warming protagonists,
these are supporters of and believers in man made climate change, and that this is the best paradigm at present.
2) There are the main stream sceptics. This "group" accepts the basic tenants of AGW but
believes that they have been applied incorrectly.
3) The radical sceptics suggest that the whole paradigm is wrong, based on what amounts to imaginary physics and processes that can not be observed in reality.
This group contains such widely differing views and approaches, some having more merit than others, that it is not really a "group" as such.
However from this 3rd "group" there does appear to be a real group emerging, which it seems will (eventually)
combine a thermodynamics approach to climate science and space weather.
This will probably (in my opinion) happen when Piers Corbyn of weatheraction dot com "comes out" and explains his approach to weather and climate forecasting,
which he has never really done as of yet.
I assume because he is still working on his approach, which is incomplete yet, and
he does not need the unnecessary "distraction" of debating with others,
when he is getting on with his own works.
The three groups as I "see" them has led me on many occasions recently to post as I have at Jo Nova's recently in comment 101.
http://joannenova.com.au/2011/02/the-oce...e-not-co2/
In my opinion, groups 1 and
particularly the main stream sceptics
of group 2 above,
"
have chosen to,
merely quibble the figures of AGW,
when they should of been
questioning the principles of AGW.
"
On reflection the above quote is too harsh of me with regards to many main stream skeptics,
this is because it was written with the underlying assumption that all parties participating in the climate change discussions / debates are being honest.
If one side, or some on one side are not being honest, then to
"
merely quibble the figures of AGW,
"
may well be very productive, and this approach I have to admit
HAS
been very productive.
Numerous examples should and do spring to mind upon reflection, but in this piece I will keep to four examples,
to illustrate the fact that some have not been honest in the discussions and debates so far.
The reasons why some are not honest in the debates will become obvious to any reader,
but I do try to show these reasons more clearly in Part 4 of this "piece".
1) The "Hockey Stick".
The most infamous and prominent "debate" so far in "climate science" has been
the debates in regards of the "Hockey Stick" plot of Micheal Mann (1998).
I will refer to this again later, and attach a Power Point slide show of my own, that tries to explain simply what the Hockey Stick debate was all about.
The question of how reliable are (the) trees as used in the "Hockey Stick" plot as a proxy to reconstruct past temperatures
has been covered many times, in many places, and it has also been aired in this forum, notably on the below thread.
http://www.globalwarmingskeptics.info/fo...d-255.html
Tree rings record manure not temperature
Dr. Richard S Courtney's post 6 is of particular note, as well as Sunsettommy's post 2, Mike Davis's post 3, and Richard111's post 10.
It seems an inescapable conclusion that trees are not a reliable way to reconstruct a past temperature proxy.
There are major issues regarding scientific malpractice in regard to the "Hockey Stick" by Kieth Briffa which amounts to a deliberate fraud,
because the malpractices seem to deliberately misrepresent the analysis which Briffa himself conducted.
Peer review and data provision practices of several leading scientific journals also appear severely corrupted as Dr. Courtney has explained in his post 6.
In the end the "Hockey Stick" debate was all about some, in a supposed position of higher authority,
taking data of their own, and misrepresenting others data, in such a way as to
(whilst having being proven to have been using incorrect and inappropriate statistical methods),
portray a certain preferred picture that strongly supported, some even suggested proved, the AGW unproven hypothesis.
When the reality is that the study could not actually determine anything of relevance either way,
with the proxy data and methods (both scientific and of statistics) employed.
2) Climategate
is by far and a way
THE
most important "debate" in the whole of "climate science" in regards of AGW.
This in itself is a massive subject area, that I will not try to cover because of it's size, and importance overall.
However a reference link to one of the most complete "repositories" devoted to this area is worthwhile.
http://wattsupwiththat.com/climategate/
Climategate
Links to everything about Climategate here.
Relevant links posted in comments will be added.
Anthony Watts blog - Watts Up With That?
I will return to some issues raised by climategate later, but in regards to whether people involved in the climate change debates are debating and why,
an understanding of the basic issues raised by climategate are necessary.
As a short (relatively speaking) explanation of the whole subject area of climategate, I think it is difficult to do better than,
http://assassinationscience.com/climategate/cg.pdf
Why Climategate is so distressing to scientists
John P. Costella
(December 10, 2009)
He has also done a complete run through of the emails that are climategate,
and has covered many issues raised.
Although I am not sure he has grasped the EU funding references contained in the emails that John Rosenthal has expanded upon, as I link to later in Part 4 of this "piece".
http://assassinationscience.com/climategate/
Climategate analysis
by John P. Costella
3) Global Mean Temperature (GMT)
, is there one?
Are the metrics we use at present to "calculate" our best understanding of what GMT is reliable at present?
In this forum we have been extremely fortunate to have as one of the longest standing and most active members who is known as Questioning Climate.
His name is Dr. Jonathan J. Drake.
He has been looking at the gridding, station number, and location problems of the GHCN network / data for some considerable time now, and with startling results.
http://scienceandpublicpolicy.org/reprin...uence.html
The Influence of Station Numbers on Temperature Measurement
by Dr. Jonathan J. Drake
reprinted by SPPI Monday, 14 February 2011
The above paper has been the basis for further work obviously, and
a later paper is in draft form at the below link from Questioning Climate's own website.
http://homepage.ntlworld.com/jdrake/Ques...work_4.pdf
Is there a Solar Component in the Global Historical Climatology Network?
EARLY DRAFT VERSION
Dr. Jonathan J. Drake
5/9/2010
Many others are also following this, and similar line/s of enquiry in regards of GMT "reliability", notably,
http://scienceandpublicpolicy.org/images...r_ever.pdf
Is 2010 the Hottest Ever?
By Steve Goddard, SPPI Exclusive
This subject area of debate (the reliability of GMT) has been rumbling on for some time now.
It is inescapable that the same names of AGW "higher authority" keep on cropping up, again and again, and again, from subject area to subject area, all in the name of defending AGW.
AGW is afterall when all is said and done
ONLY
an unproven hypothesis.
It must be asked then, if "they" are scientists, why do "they" do what "they" so obviously do, seemingly beyond reason and honesty?
Later addition
- GMT as discussed above is actually
near surface air temperature
GMT,
because the measurements are taken at about 6 foot above the ground.
This is a completely different "thing", to the actual surface temperature.
4) Steig's Antarctic.
I think, in time, this will fall into a category or rather desciption of,
" You can fool some of the people some of the time, BUT,
you can not fool all of the people all of the time. "
(Particularly when you repeatedly use the same techniques to deceive with..)
This is at present a developing story, or saga, that is in my opinion about to explode.
It will explode I suggest not because it is any worse than previous deceits by "the Team", but because
of the poor economic situation many of us face that will make people have to listen.
It is a profound shame that science alone was not (seemingly) enough, but such is life, and so is human history..
Dr. Richard S Courtney summed this up best for me when he said words to the effect,
"
In times of plenty people merely grumble,
in times of famine they will revolt.
"
So, what has Steig done to Antarctica that is such a heinous a crime in science terms, in my opinion.
I will try to simply explain.
The "saga" is unfolding and developing on this thread on the main forum,
http://www.globalwarmingskeptics.info/fo...-1111.html
Steig's Warming Antarctica Massacred (The Easy Version)
You may remember a couple of years back that Ban ki Moon (United Nations big man) visited the (supposedly) disappearing ice sheets of Antarctica and
with much media ado and fan fare of impending disaster drank whisky with 40,000 year old (glacial) ice in it.
In short, and with Team AGW's obvious support, Steig has,
in regards of perfectly natural localized volcanic activity within some parts of Antarctica and
it's effect upon global mean temperature taken what is
locally significant, but globally insignificant,
and using (known to be dodgy) "statistics" (applied incorrectly) has presented this as,
perfectly natural volcanic activity that is portrayed as locally insignificant , yet
it has been transformed into something that is globally significant for man made global warming "theory".
The present climate change debates are plainly "loaded", and biased by some of one side more than the other.
Peoples faith in "higher authorities" is going to be sorely tested, if not destroyed.
This alone has caused much angst for many at many different levels right "down" to personal and family relationships.
In this regard I can not say how important it is to me that my father recently gave me a book to read.
The book is Operation Mincemeat by Ben Macintyre.
Excerpt,
"
One overcast April morning in 1943, a fisherman notices a corpse floating in the see off the coast of Spain.
When the body is brought ashore, it is identified as a British soldier, Major William Martin of the Royal Marines.
A leather attache case, secured to his belt, reveals an intelligence gold mine: top-secret Allied invasion plans.

But Major William Martin never existed. The body is that of a dead Welsh tramp and every single document is fake.
Operation Mincemeat is the true story of the most extraordinary deception ever planned by Churchill's spies
- an outrageous lie that traveled from a Whitehall basement all the way to Hilter's desk.
"
One book review -
"
With it's fantastic plot and it's cast of eccentric characters,
the book reads like the most improbable of spy stories.
It is a tribute to Macintyre's skill that we never for a
moment forget that it is actually all true.
"
Daily Telegraph.
A book well worth reading may I suggest.
There are many other subject areas that will be "debated" more properly in time,
such as atmospheric CO2 levels and MLO "measurements", ozone "science", MODTRAN, computer General Circulation Models, "back radiation", etc, etc, etc...
The specifics are beyond this piece at this point (although I will refer to some in more detail later), but,
time will tell
.
Let me keep a little more specifically "on track" for this piece.